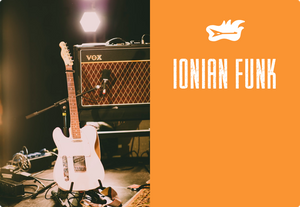 100% money back guarantee within 7 days of purchase
What you'll learn?
✓ Comfortable scale fingerings
✓ "Bread and butter" chords usable in most music contexts
✓ Mode imprinting - make this mode your friend!! finding a personal emotional connection to the scale
✓ How to Pimp YOUR Licks!!!
✓ Start to develop your own style with simple melodic development techniques
Required: 
- Absolutely no experience needed
- An open mind to trying new ways to unlock your creative potential
Description: 
Learn new modes or finally master the ones you always wanted to in a fun musical groove context
Build knowledge or fill in gaps with simple chord and scale exercises
Use melodic development techniques so you can Pimp YOUR Licks!!
What included:
For now no video, but audio examples of chord and scale exercises
Context, chord scale theory, mode imprinting, scale, and chord exercise explanation
Downloadable scale and chord diagrams
Access on mobile and desktop
Simple & fun musical groove context
One free Pimp My Licks session